Project managers are liable for overall project development and are responsible for keeping it on schedule. It is vital for project managers to figure out the requirements needed to achieve project objectives, and plan to attain them. The simplest approach to achieve them is to define the scope of the project. As a project manager, Scope Management Plan is critical, and PMI also emphasizes it. It serves as a guide in the managing and controlling process and aids in the success of the project.
What Is A Scope Management Plan?
Scope Management Plan is a collection of processes that are required to achieve the project objectives. It defines and maps out deliverables, features, functions, tasks, and costs necessary to complete the project on time. The scope management plan decreases the possibility of scope creep and also aids in avoiding issues like constant changing needs, overspending, wasting time, and failure to meet deadlines.
How To Create A Project Scope Management Plan?
PMBOK Guide explains project management process knowledge areas. Project Scope Management has six processes, each of these processes is associated with a set of inputs, tools & techniques, and outputs. The first process in the Scope Management knowledge is Plan Scope Management. It requires the following processes.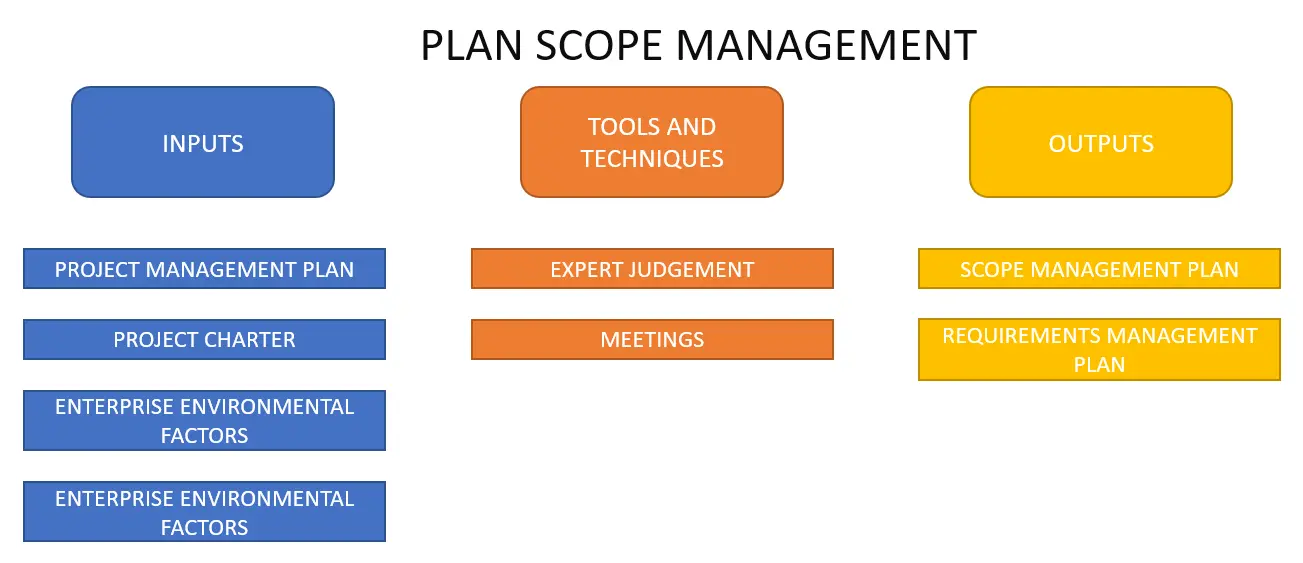 Inputs: it involves the project charter, the project management plan, Enterprise Environmental Factors, and Organizational Process Assets.
Tools and techniques: It uses Expert Judgement, Meetings, and Data Analytics.
Outputs: It consists of the Scope Management Plan and Requirements Management Plan.
Inputs of Scope Management Plan
Project charter
A project charter is a brief, formal document that acts as the foundation for a project. It is the statement of scope, objectives, tasks, the roles, and responsibilities of the team, identifying the stakeholders, and defining the authority of the project manager.
Project management plan
A Project management plan is a formal document that defines project goals and processes to control, monitor, and accomplish the goal. It is prepared by project managers and used as a guide for evaluating project performance throughout the project. A project management plan includes the following components: project scope, schedule, cost, resources, stakeholders, baselines for management plans for scope, communications, risk, and procurement, requirement management plan, change management plan, configuration management plan, and process improvement plan.
Enterprise environmental factors
Enterprise environmental factors are internal and external influences that impact the project. It is an inevitable factor that may have an impact on the company, project, product, and outcome in both positive and negative ways. In general, enterprise environmental factors have a detrimental impact on the project's efficiency and production.
Examples of external enterprise environmental factors:
Government regulations
Industry standards
Legal restrictions
Finance and market conditions
External political conditions
Examples of internal enterprise environmental factors:
Organizational culture
Organizational structure
Infrastructure
Internal political conditions
Existing resources
Organizational process assets
Organizational process assets are assets acquired by the organization that may be utilized to manage the project.
They are categorized into two types:
Processes and procedures: It includes organizational standard processes, standardized guidelines, and templates.
Corporate knowledge base: It includes configuration management knowledge bases, financial databases, process measurement databases, historical information and lessons learned knowledge bases, and project files from previous projects.
Tools And Techniques Of Scope Management Plan
The following are tools and techniques involved in Scope Management Plan
Expert judgement
Expert judgement is a technique that helps to make a opinions based on skill, expertise, or specialized knowledge in a particular area. It assists in the development of threat and risk response strategies, as well as the identification of project prospects.
Data analysis
A data analysis technique includes collecting project requirements, elaborating the project and product scope, developing the product, verifying the project scope, and controlling the project scope.
Meetings
Meetings are held to discuss and finalize the components required to create the overall strategy. It includes project managers, project sponsors, project team members, and stakeholders.
Outputs of Scope Management Plan
The outputs of the Scope Management Plan are as follows:
Scope Management Plan
Scope Management Plan outlines how the scope will be defined and developed, monitored, controlled, and validated. It is an important component of the Project Management Plan and other scope management procedures.
The Scope Management Plan includes the following processes:
Creating a project scope statement.
Designing Work Breakdown Structure (WBS) from the project scope statement.
Approving and maintaining WBS.
Accepting the completed project deliverables.
Requirements management plan
Requirements Management Plan describes how the project requirements will be analyzed, documented, and managed.
The following are the processes under requirements management plan:
Planning and monitoring requirements activities
Tracing and identifying issues, as well as the procedure for assessing the impacts.
The process of prioritizing requirements
Metrics used to demonstrate successful completion of requirements
Traceability structure indicates which required aspects will be documented on the traceability matrix.
Summing up
Scope Management Plan helps to effectively manage project baselines and activities to accomplish project objectives. Effective Scope Management Plan assists project managers in minimizing challenges such as a continual change in requirements, budget overruns, and so on by clearly defining and communicating the scope to all parties involved in the project. Without a Project Scope Management Plan, project managers have no idea how much time, money, or labor was involved in a project. It serves as the foundation for all project decisions, allowing them to achieve project success.