Project managers make use of various tools and techniques for carrying out different project tasks. With changes in technology and the advent of advanced tools and software, project managers find it much easier to perform project tasks. Work Breakdown Structure is one such tool that allows project managers to break a project activity into various tasks and integrate its scope, costs, and resources. WBS is popular among Project Management Professionals (PMP) who apply advanced practices of project management in organizations.
What is Work Breakdown Structure as per PMBOK?
PMBOK defines WBS as " a hierarchical decomposition of work to be executed by the project team to accomplish project objectives and create required deliverables". It further organizes and defines the entire scope of the project. Project managers make use of WBS to define the deliverables and objectives of a particular project. In addition, this advanced tool is used for fragmenting various complex tasks. The project team can take up the smaller bits and work on them simultaneously.
Certified professionals in the field of project management further break down even project processes using WBS as per requirements. In addition, within the project scope, there may be various sub-projects. Work Breakdown Structure assists in breaking down those sub-projects as well into simpler tasks. this demonstrates that any level of complexity within the project scope can be solved using Work Breakdown Structure.
How can a WBS be created?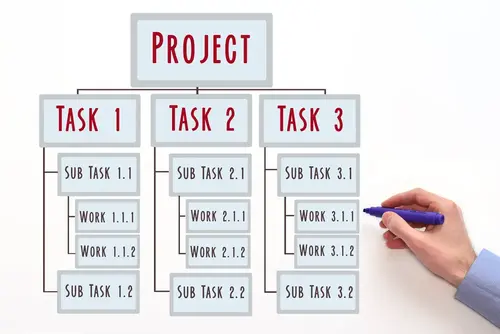 A WBS is typically created while drafting the project scope document. A certified PMP creates a WBS by following these simple steps.
The first step involved in creating WBS is to define the scope of the project, objectives, and goals. This is usually done using a project charter document. Without understanding the objectives and goals of a project, WBS cannot be utilized optimally by project managers.
The next step is to identify the phases of the project and control accounts. When a project involves a highly complicated scope statement, it can be broken down into different phases. This helps in creating different control accounts and categories for the project in order to track the progress.
The third step of WBS creation process includes listing various deliverables of the project. Project managers can further define the activities to be performed for creating the deliverables.
Setting WBS levels is the next step in WBS creation. These levels need to be designed as per PMBOK Guide issued by PMI. The team needs to draft the final project deliverable in this step by combining the deliverable of various project phases as defined in the scope of the project.
Finally, the last step in WBS creation process is to create work packages and assign their task owners. Each deliverable is broken down into different tasks which are then assigned to its owners based on their competencies. Additionally, the project team is provided with the necessary resources for executing the tasks with the defined budget and schedule.
What are the inputs, tools and techniques, and outputs for creating WBS?
The inputs required for creating a Work Breakdown Structure include Scope Management Plan, Project scope statement, requirements documentation, organizational process assets, and enterprise environmental factors. The main tools and techniques required to create WBS include decomposition and expert judgment. With these tools, a project manager can easily acquire the output of scope baseline that is associated with WBS Dictionary and project document updates.
For an effective work breakdown structure, a project manager is required to ensure that all the project elements are listed briefly. Also, project managers can make use of phase-based WBS or deliverable-based WBS as per project needs. The charts used to represent Work Breakdown Structure include list type, tree diagram, and Gantt charts.
What are the best practices for utilizing Work Breakdown Structure?
PMP Certification holders make use of WBS in handling their day-to-day project activities. Some of the best practices of WBS include:
100% rule: PMP certified project managers tend to include 100% of the project scope as work packages in WBS. By summing up all the levels, 100% of a particular task should be showcased without exceptions.
Usage of nouns: A lot of nouns are required for describing each step that must be applied in WBS rather than verbs. Although verbs portray action, the levels of WBS need to be specified using nouns.
Comprehensive: A WBS needs to be described comprehensively to ensure there are no loopholes within the work package. This offers clarity to project team members who are assigned with work packages.
Mutually exclusive packages: Each package should contain the steps for carrying out the specific tasks. Project managers need not mention the same process in the next task.
Maintain crispness: every work package should just be detailed enough to be understood by the project team. The ideal level of tasks under each work package should be limited to 4 or 5 levels and not more than that.
With these tips by a PMP, WBS can be easily created by project professionals while starting a new project. This further allows the project team to complete all the tasks assigned within the schedule and deliver all the outcomes promptly. Even a complicated project scope can seem simpler when using a Work Breakdown structure to represent the activities of a project. As a result, WBS is one of the best tools that can be used to make the complicated activities of a project more manageable.